Geopolitical Background
Between December 2010 and September 2021, President Alpha Conde was Guinea's first democratically elected president. However, Conde initiated a referendum which was held on March 22nd, 2020 that allowed him to continue as president, despite the constitutionally mandated term limit. His subsequent reelection on October 18th, 2020 led to protests, eventually leading to a coup d'état on September 5th 2021.
The coup added to a growing sense of instability in the region, following two military coups in Mali, the death of Chadian President Idriss Deby at the hands of rebels, an attempted coup in Niger and an ongoing political crisis in Ivory Coast, amongst other events.
While the coup was condemned by democratic and non-democratic countries alike, as well as the African Union and the United Nations, Russia's Ambassador to Guinea did meet with the leader of the military junta, Colonel Mamadi Doumbouya on September 8th, only 3 days after the coup. Additionally, there are reports that in 2019, Col. Doumbouya met with the leader of the Russian-supported military junta in Mali, Assimi Goita.
Russian Influence in Africa
After many years of decreased involvement in Africa, Russia has renewed its involvement on the continent. Russian activity in Africa includes military, economic and diplomatic cooperation, as well as more covert means, including covert influence operations and the utilization of proxies such as the Wagner Group.
To further their influence in Africa, Russia has engaged in disinformation campaigns in Libya, Mali, Madagascar, Sudan and CAR. In May of this year, Facebook de-platformed a network of profiles, pages, and groups which were promoting pro-Russia themes in Sudan. The network looked to position Russia as a true friend of Sudan, while denigrating the United States. Facebook attributed the network to the Internet Research Agency (IRA), the infamous company known for waging covert influence operations around the world on behalf of Russian interests. The IRA is linked to Evgeny Prigozhin, a Russian oligarch who reportedly also has strong links to the Wagner Group. The network's assets posted pan-African news and geopolitical developments in the region and expressed support for Russian humanitarian services. Other influence networks linked to the IRA have also used similar methods of establishing unattributed media organizations sources and using locals to own the pages as well as for content creation.
The Wagner Group has been active in Libya, Central African Republic (CAR), Sudan, Mozambique. Additionally, Russia initiated the Russia-Africa Summit in October 2019, which brought together leaders from over 40 countries and promoted economic as well as development cooperation. The strategic purpose of Russia's involvement in Africa is to build up a multi-polar world order and end the United States' hegemony.

The Uncovering of a Suspicious Platform — Agora 24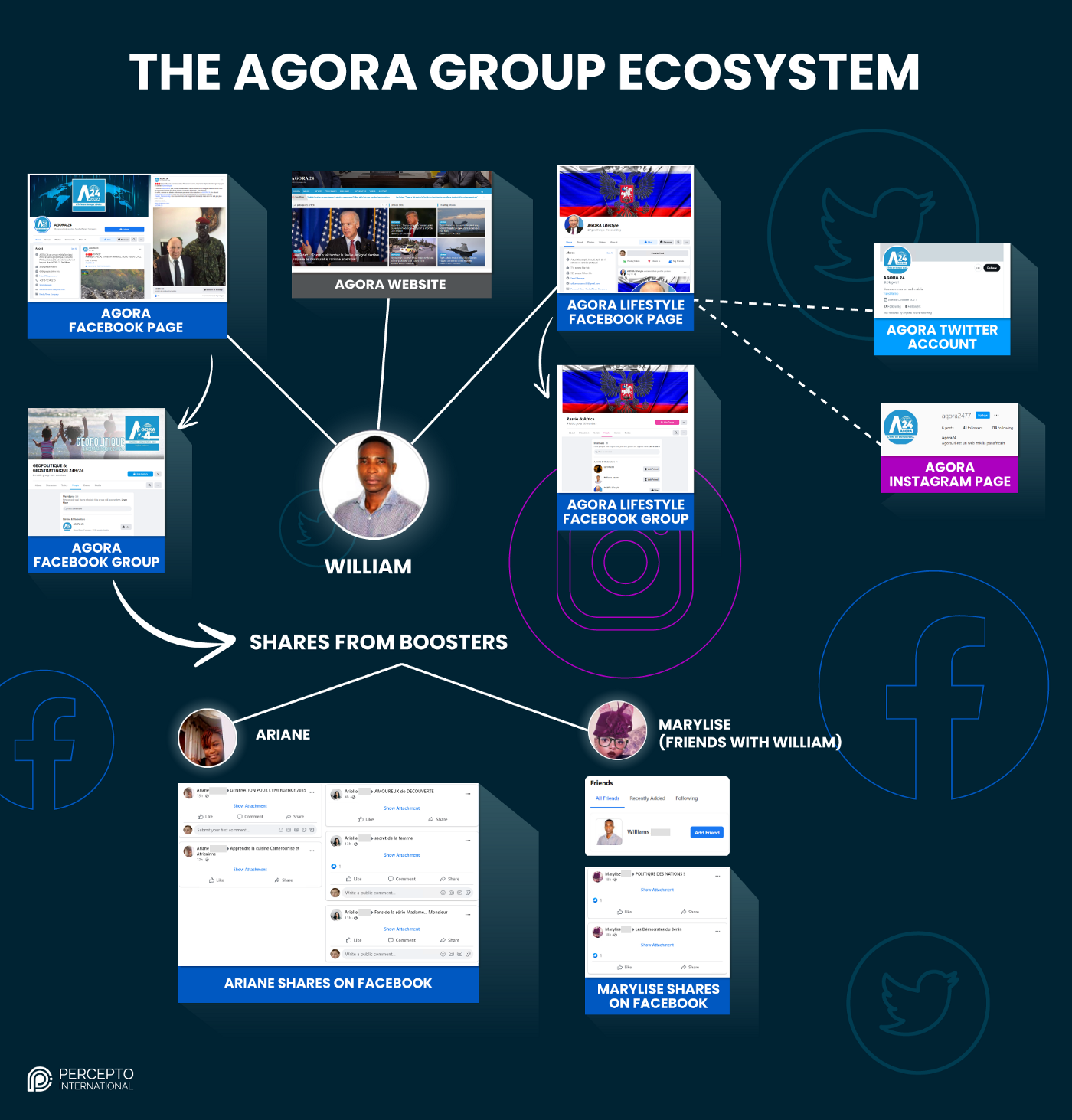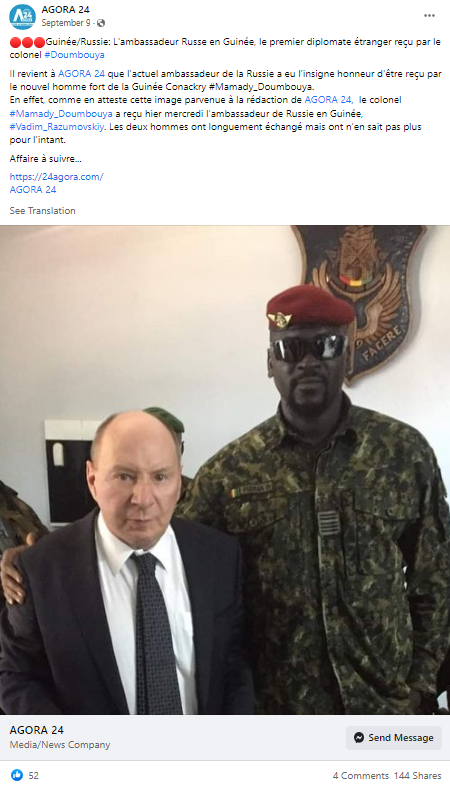 Post about Ambassador Razumovsky's meeting with Doumbouya

While monitoring geopolitical developments in the region, our team identified a Facebook page, AGORA 24, purporting to be a regional news outlet. The page was one of the first accounts to share the photo (left) from the meeting of Russian Ambassador to Guinea, Vadim Razumovsky, and the leader of the Guinean military junta, Mamadi Doumbouya. The report on this page even came before the reports from official outlets.

Initial analysis of the page revealed that it was created on July 6th, 2021, 2 months prior to the coup and is managed by two accounts from Cameroon, while its domain was registered on August 1st, 2021, a month before the coup. The domain registration and Facebook page are both linked to William. The AGORA 24 page focuses on African geopolitics, with a noticeable pro-Russian and anti-French slant. These characteristics make it clear that the page supports Russian influence in Guinea, though all of the page's managers are located in Cameroon.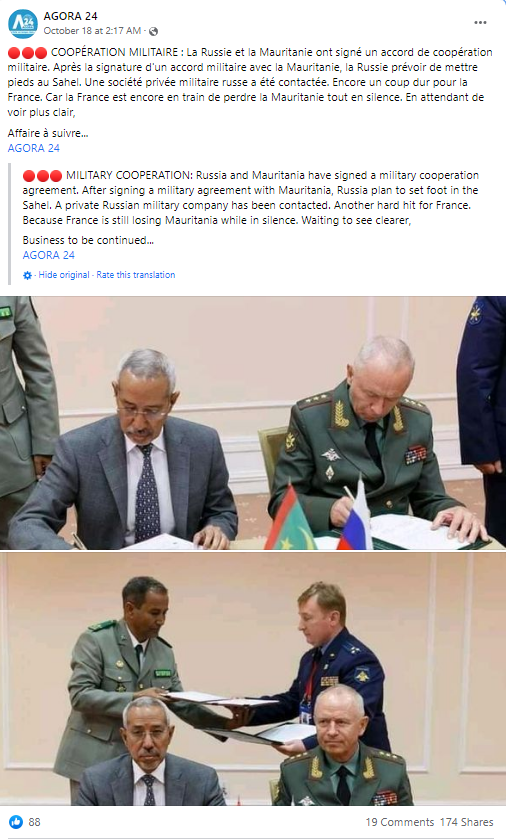 A positive post about Russia's military involvement in the Sahel gained 88 likes, 19 comments, and 174 shares

The engagement the page receives is highly suspicious, with posts covering Russia's activities in Africa obtaining substantial engagement and amplification (see above). These posts focus on the Russian-supported coup in Mali, tensions between France and African countries, the Barkhane operation in Sahel, and Russian activity in and support to African countries. Posts not discussing these themes receive comparatively fewer likes, comments, and shares(see below).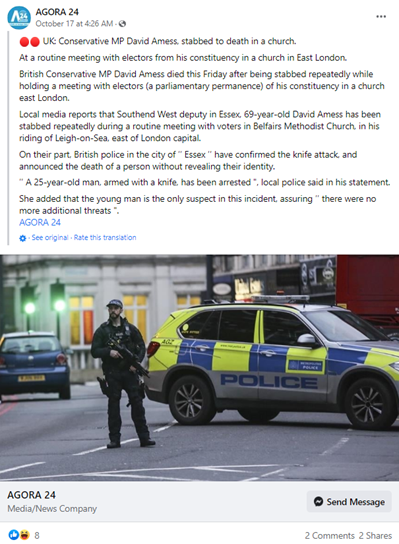 A post about MP David Amess' murder gains only 8 likes, 2 comments, and 2 shares
Additionally, most shares of AGORA 24's posts are by accounts dedicated to sharing the page's content across multiple African groups as well as in pro-Russian and pro-Putin groups, raising the suspicion that these accounts are inauthentic and possibly even bots (below).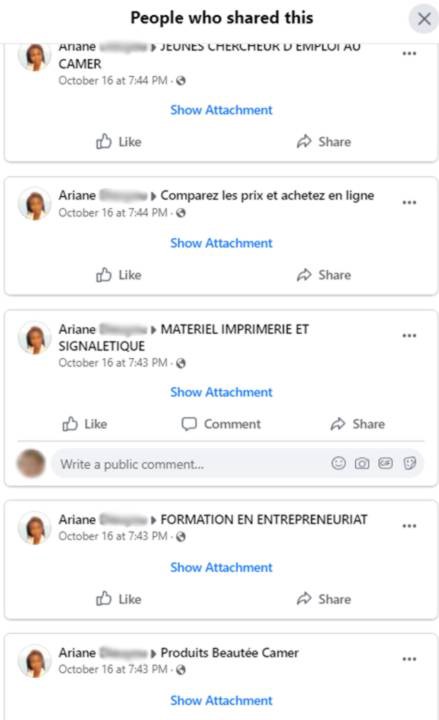 AGORA 24's ecosystem includes a Facebook group focusing on African geopolitics, though the group only has approximately 500 members. There is also a page called "Agora Lifestyle" which is managed by William. The page's profile picture is of Vladimir Putin, and the page was established a month and a half before Agora 24. Additionally, Agora 24 appears to have an Instagram page, as well as an inactive Twitter account.

William's email address and phone number are publicly displayed on the Facebook page, and he has accounts on a variety of social media platforms. Allegedly from Cameroon, he is a graphic designer and web developer. In addition to being the owner of the 24agora.com domain, he is the owner of two additional domains — kreatifkmer.com and agoraformations.com. The fact that his email address and phone number are publicly available show that the individual has no qualms being identified as a pro-Russian figure in Africa. If the account is real and not a "deep avatar," it is possible that either his identity was stolen, or alternatively he is employed by those behind this influence campaign.
Analysis
Looking at this highly suspicious network and its assets across platforms, it appears that this is yet another pro-Russian influence campaign in Africa. Like other campaigns analyzed by
@DFRLab, the Stanford Internet Observatory, and Graphika, the assets are operated from Cameroon, targeting Africa's French-speaking population. In this case, the emphasis is on Russia's interests in Guinea. Additionally, like the other campaigns, the one discussed here appears to be grassroots, utilizing authentic accounts of locals in Africa to manage assets and content creation. To highlight the grassroots aspect, they make it very easy to find the individual purporting to be behind the network's assets.
The use of legitimate profiles underscores that sock-puppets and bots are only one aspect of such campaigns, as we have seen here. Real people can also be utilized, whether knowingly or unknowingly.